Kim Kardashian has a gorgeous, curvaceous figure and she almost always looks flawless, even if she's dressed down. With or without makeup, Kim's skin almost always glows. Good genes? Sure, but also great doctors. Everyone, even mega-celebrities, has issues at some point. Now, it seems, Kim K. is also having issues. Unfortunately for her, the cameras capture everything.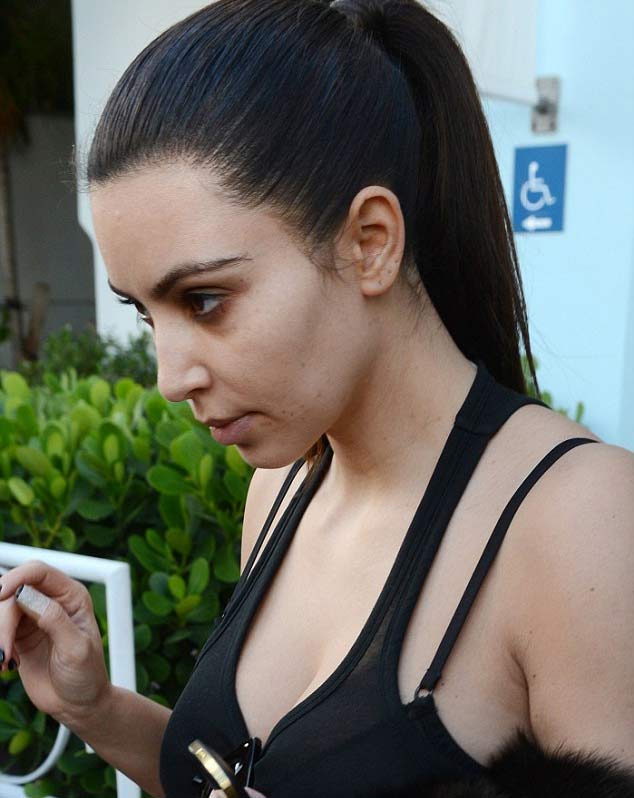 Fresh off her big trip to London to help launch her clothing line, Kim Kardashian arrived back in Miami, Florida. And yes, the ever-present paparazzi followed Kim's every move, as she embarked on a shopping trip on Monday afternoon. She was wearing the usual high luxury Kardashian wardrobe, complete with a Birkin bag. But even the wealthiest women in the world occasionally fall prey to breakouts, and Kim is among them.
Photos of Kim Kardashian clearly show some sort of acne issues on her face. Why on earth wouldn't Kimmy try to cover them up? Maybe she'd just had a dermatologist appointment or a facial? Sometimes those red marks take a while to fade. Even still, it's unlike Kim to *not* try to conceal flaws. Between this and her garbage bag dress at the MTV EMAs, Kim isn't having the best month so far.