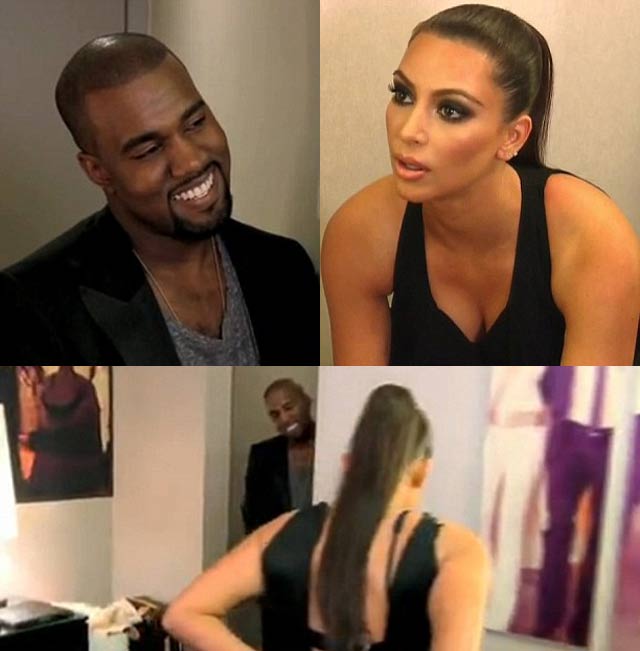 At long last, Kim Kardashian's new man, Kanye West, makes an appearance on 'Keeping Up With the Kardashians.' And wouldn't you know it: He's giving her fashion advice? Fans knew from here that Ye would eventually turn up in the Kardashian's never-ending reality world — the question continues to be: How much face time will he actually get on the E! show?
At the moment, not much. Kim Kardashian's brother, Rob, first mentions in last night's episode that there's a rumor she's dating Kanye West. Kim gives Kourtney a spin in Kanye's car, telling her, "So, Kanye and I, you know we have a lot of things in common," and adding, "We both just love cars. So what's the big deal? I'm just borrowing my friend's car."  Mmmhmmm. Yeah.
The whole Kardashian gang is in New York City for Scott Disick's big restaurant opening. Later, Kim mentions to Rob that she really would like to take things slow with Kanye and keep it private. By now, we all know that didn't happen, but it is interesting seeing how things played out a few months back.
Finally, Kanye West makes his first appearance on 'Keeping Up With the Kardashians.' He turns up as Kim is getting ready for Scott's big opening night, giving advice on Kim's accessories, including her choice of purse to carry and her jewelry. Kanye's been helping Kim out in the fashion department for months, so this scene should come as no surprise.
At least now we know for sure: Yes, Kanye West is going to appear several times on this season of 'Keeping Up With the Kardashians,' and even when he's not on screen, Kim Kardashian is going to talk about him, and their relationship, with all of her family members. Over, and over, and over…