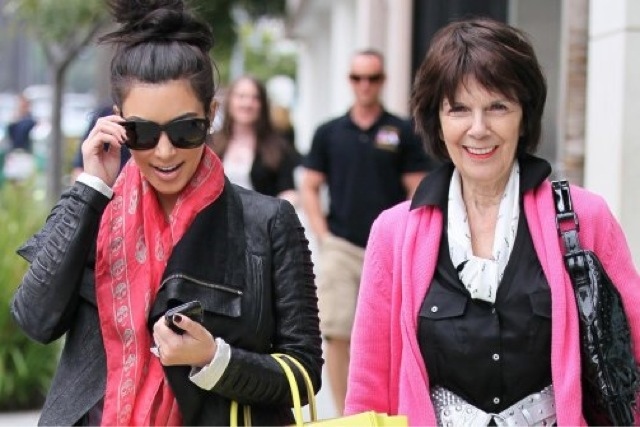 The Kardashians are all about family, and that includes Kris Jenner's mom, Mary Jo Shannon. Kim Kardashian's grandmother does not live the kind of lifestyle that her daughter and grandaughters enjoy on a daily basis — not by a mile. Yes, "M.J." (as she's affectionately called by Kim and the other girls) keeps things low profile. But just because she's out of the limelight, doesn't mean she's out of the loop!
Mary Jo Shannon tells The Daily Beast's Isabel Wilkinson that she is involved in her darling Kardashian girls' lives. They do keep in touch, regularly. She says whenever there's a new tabloid rumor about Kim and Kanye or Kim and Anyone Else, she texts to ask what's true — as any concerned grandmother would. She's only appeared on 'Keeping Up With the Kardashians' a few times, but she's a beautiful, vibrant woman and she's hard to forget!
What advice would she give Kim Kardashian, perhaps her most famous grandchild? Shannon tells the Daily Beast that Kim "…really needs to hook up with somebody that's got her temperament." Is that someone Kanye West? Shannon also talks about meeting him, calling him "charming and very sweet."
It's so sweet that the Kardashian women have such a sensible, sweet woman as their matriarch. Hopefully all of them look up to her and aspire to be the best that they can be.