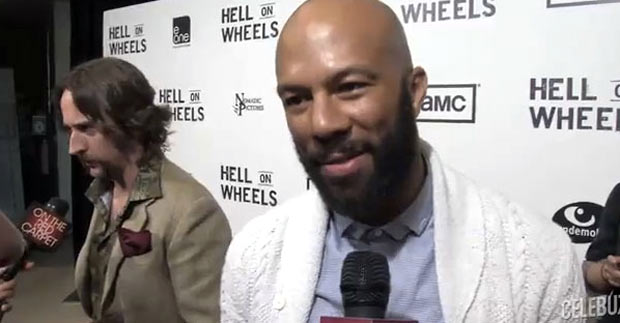 Since Kim Kardashian and Kanye West first got together, it's the question that begs to be answered: Is their seemingly perfect relationship real, or is it merely another Kardashian publicity stunt? Now, one of Kanye's closest buds is spilling the beans.
Rapper Common, who is really tight with Kanye, says what we're all seeing is what's there: Kim K. and Kanye West are genuinely in love. In a brief interview, Common says that the highly watched power couple are actually a "great match."
Common and Kanye West go way back, so there's no real reason for the rapper to fib about this kind of thing. No reason, except, perhaps, to help out his friend a little by reinforcing the idea that Kimye is not just a fictional relationship, born out of necessity (Kim needed a PR boost after her disastrous divorce, and Kanye, well, he just loves ANY publicity).
Does Common watch his buddy on Keeping Up With the Kardashians? He says no, "but I know he's been working hard." Ha! Because really, being on a reality show is serious work, isn't it?
Five months into the Kim Kardashian and Kanye West hookup, the speculation continues. Only time will tell if this is the real thing, right?