What's the deal with the Kardashian family and all of the paternity rumors? The latest nasty rumor has Kylie Jenner, the youngest child of Kardashian momager Kris Jenner and hubby Bruce Jenner. Tabloid gossip is that Kylie is *not* actually Bruce's biological dad.
Kylie Jenner is having none of that. In classic Kardashian fashion, she took to her Twitter account to discount any of the rumors about Bruce Jenner not being her dad. At 15, this teen isn't mincing words. In one of her tweets, Kylie said:
"Yes, my father is my father and no my parents aren't getting a divorce. You guys can't believe any of these magazines. It's all bulls**t."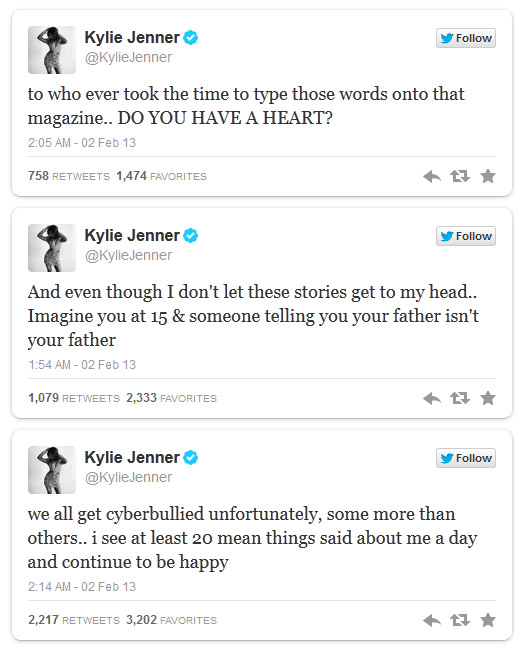 Such language! Still, who can blame Kylie Jenner for using Twitter to make her point? What a hurtful, horrible rumor! It's one thing when the nastiest of the Kardashain-related stories involve the adult children, but a 15 year old? Who does that?! Oh. Right. The tabloids. Kylie also went on to say that she gets cyber-bullied on a regular basis by haters, and she doesn't let it get to her.
Hopefully, Kylie Jenner will continue to let trashy stories involving her roll right off her back. Go Kylie!