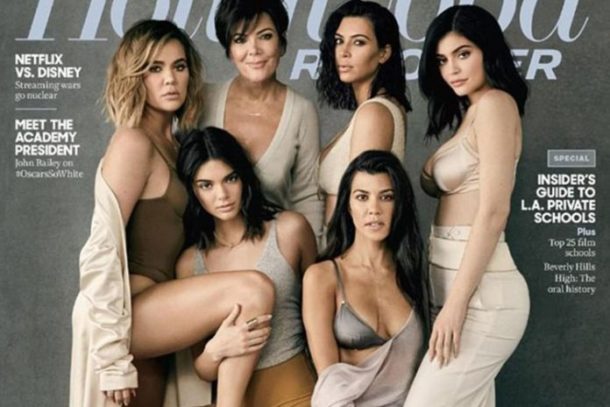 The reality show "The Kardashians Family" will celebrate a decade on the air this autumn. In 2007, the channel E! showed the first episode, after which Kim, Kourtney, Khloe Kardashian, Kris, Kylie and Kendall Jenner have become incredibly popular. By that time Kim had already became known by her sex tape with Ray J and this show added to her popularity.
In honor of the show anniversary, The Hollywood Reporter has placed all members of the star family on the cover. The head of the Kardashian clan and all her daughters are posing in sexy underwear.
In an interview the participants of the reality show talked about the most difficult and happy moments in the show, and remembered how they started shooting and what they experienced at that time.For example, Kourtney confessed that the hardest thing for her was the episode where she broke up with her ex-husband Scott Disick: "I went into the bathroom and cried as quietly as possible, because I had the microphone. I hate crying in front of cameras… I was very worried. You go through difficulties… and then see the episode about them and comments in social networks".
Kim explained why she looked so miserable during her wedding with Kris Humphries. Then, many accused her of getting married not for love, but for the sake of publicity. She explained that they had real feelings and emotions otherwise it would not have been worth burdening themselves with legal problems.
The producer of the reality remembers that initially, Kris asked to be honest in front of cameras. She knew that was the only way to gain viewers' love – the audience feels the lie. But, whatever it was, the show remains in the top TV ratings for ten years already and it does not seem to slow down.