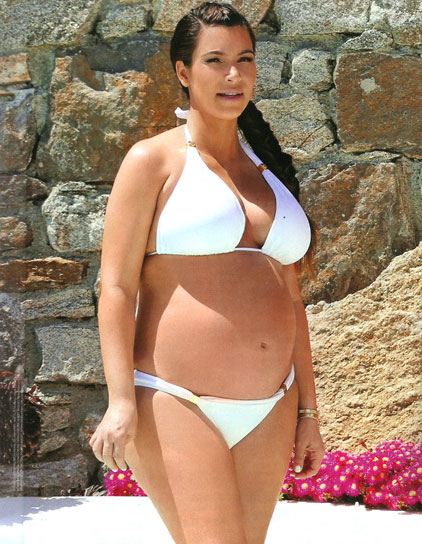 Kim Kardashian's certainly taken more than her fair share of flack about her fashion choices, especially now that she's pregnant. But who gets the last laugh? Kim! Why? Because right now, Kim K. is on the cover of a major U.S. magazine wearing a bikini…and she looks pretty amazing.
Kim Kardashian sports a gorgeous, burgundy bikini on the cover of this week's 'Us Weekly,' and if anyone dares ot criticize, they're crazy. Any woman who is seven months pregnant should not look that good in a skimpy swimsuit. Good for her! The photo shows Kim in full-on maternity glory, looking tanned, stunning and (hopefully) relaxed while vacationing with her family on the island of Mykonos late last month. Her hairdo is also pretty interesting: Kim clearly opted for comfort, wearing multiple braids.
The look works, period. Kim Kardashian has proven time and time again that she can rock a bikini, and she still can – even while pregnant. The woman has some killer curves, with or without child, don't you think? Somehow, Kimmy manages to look even hotter the less she wears!