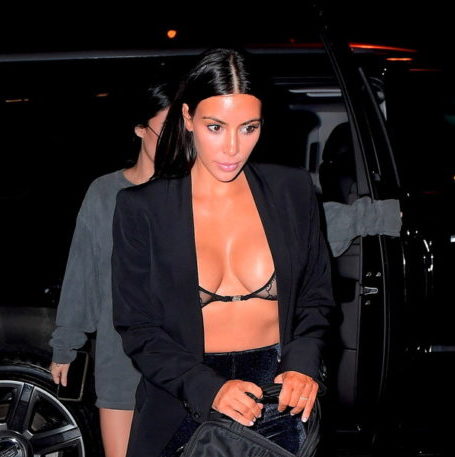 Frustrated by the comments of the haters Kim Kardashian is now trying to prove that her body is not as far from ideal as many people think. Only proven methods are used — spicy shoots in bikini and appearing in provocative outfits in public. The last image of Kardashian doesn't leave a space for imagination.
Kim Kardashian's style is so recognizable that some fashion experts know in advance what will be her next outfit: over the recent year, Kanye West's wife has been wearing sporty style pants, cycling shorts, crop tops and oversize jackets.
The image, which she demonstrated on 10 July, could not attract our attention, unless there was one detail. On Monday night, Kim went to dinner at one of New York's restaurants, wearing a long men jacket, velvet cycling shorts and… a tiny transparent Gucci bra, barely covering her forms.
Such provocative things — not uncommon in Kim Kardashian's wardrobe. Note, however, that this time the media personality decided not to show too much, taking care that unbuttoned jacket did not open too widely.