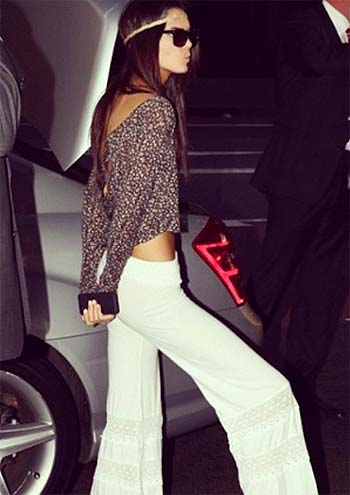 Kendall Jenner is a gorgeous teenager. She's also a member of one of the world's most famous families, the Kardashians. Now, she's looking to follow in the footsteps of her older half-sisters, Kim, Khloe and Kourtney Kardashian, by becoming a celebrity in her own right through modeling. Models are typically very thin, but is Kendall getting too skinny?
During a trip to Australia last week, 16-year-old Kendall Jenner had a huge photo shoot with a world-renowned fashion photographer. She was there with her mom, Kris Jenner. On Thursday, she broke the biggest news of all: She's shooting the cover of Vogue! Yes, that's amazing, especially for someone so young. The pressures of being a teen model have to be tremendous, but is Kendall staying healthy?
Kendall Jenner is tall and willowy, but now she's starting to look shockingly thin, especially in a photo she tweeted to her millions of followers during her Australia trip. In the picture, she's wearing a bohemian looking top and a pair of wide-leg white pants, and even in white, she appears extremely thin. Hopefully it's just the angle of the photo that makes her look so tiny, because that can't be healthy, especially for a teenager. Kendall needs to take care of her looks, and her mom needs to keep a close eye on her.
Do you think Kendall Jenner is too thin?