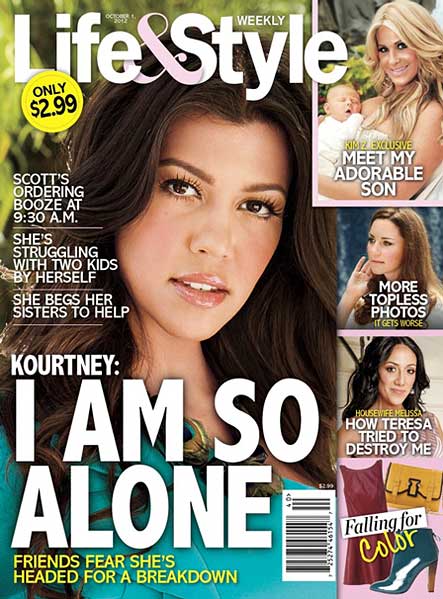 It's been a really busy few months for Kourtney Kardashian. She just gave birth to her second baby (a birth seen live during the season finale of 'Keeping Up With the Kardashians') and she's heading up the Kardashian sisters' latest venture, a brand new DASH store in Miami. And of course, she's starring in the E! reality show 'Kourtney & Kim Take Miami.' Now, rumors continue that there's trouble with her and her baby daddy, Scott Disick.
'Life & Style' magazine claims that sadly, Scott might be back to his partying ways, playing the playboy during a trip to Toronto earlier this month. The magazine claims that Scott invited several women to his hotel room for some after-hours partying. Uh oh! A boozing Scott Disick is a very, very obnoxious Scott Disick!
Hopefully this story isn't true, but if it is, you've got to feel for Kourtney Kardashian here. She's a super smart businesswoman and a busy mom of two, and her partner can't seem to stay sober long enough to stop hitting on other women?!
There is another possibility to consider here: The Kardashian sisters are in the middle of filming another reality show at the moment. Would we watch if the show wasn't full of drama and conflict? Probably not. This could be just another scheme to spice up 'Kourtney & Kim Take Miami.' No one wants to sit around gossiping about a reality show where nothing bad ever happens, right?