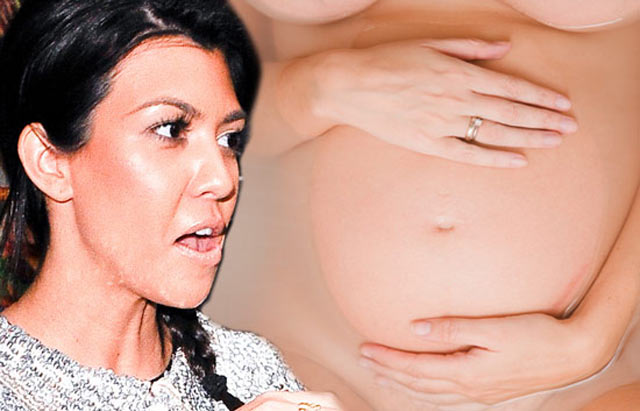 Little Penelope Disick isn't even a month old yet, and already, she's causing a huge rift between her mother, Kourtney Kardashian, and her grandmother, Kris Jenner. Why? Would it be a surprise to learn that Kris is reportedly driving Kourtney nuts about using the new baby girl as a way to make money!
A new report says that Kourtney and baby daddy Scott Disick have had enough of Kris Jenner's crazy antics. Apparently, Kris started in with her wild money making baby scheming while Kourt was still pregnant. A source tells Radar Online, Kourtney was "already getting annoyed during her pregnancy because her mom talked nonstop about branding girly things for the baby."
Not long ago, a report surfaced that claimed Kris was furious with Kourtney for naming her new daughter Penelope, because she didn't pick a name that started with "K" (like Kourtney, Kris, Kim, Khloe, Kylie and Kendall). Maybe Kris Jenner decided to start having Kardashian baby products branded with a little "K," and the "P" name threw her for a loop?
Kris even went so far as to take photos of little Penelope as she was being born. A source says she wanted to sell the pics, "and the whole family knew it."
It's hard not to feel a little sorry for these Kardashian girls. Their mother seems like a monster sometimes. It has to be bad when even the dastardly Scott Disick, who never misses a chance to make money, tells Kris she has to "back off." At least, for once, Kourtney and Scott are on the same parenting page!