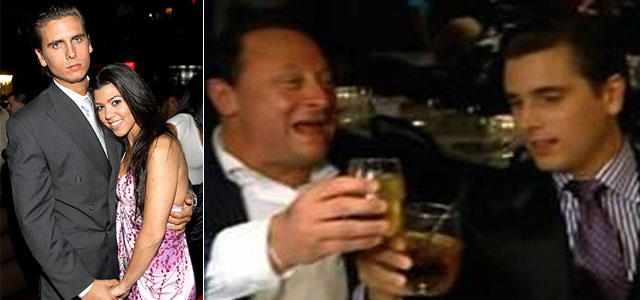 Kim Kardashian's older sister, Kourtney Kardashian, has one of those drama-filled relationships that makes for great reality television, but a tumultuous personal life. Kourtney's baby daddy, Scott Disick, seems like a slightly unstable guy. Okay, he seems really unstable if everyone's being honest.
Kourtney and Scott's relationship has had it's ups and downs, and now, sadly, we might be heading for another down. As this Kardashian couple prepares to welcome their second child into the world (Kourtney is due to give birth this month, by all accounts), things are reportedly not very rosy at the moment.
What's going on? Scott Disick might be drinking again, that's what! And Kourtney Kardashian really needs to lay down the law now, before she allows Scott to spend any more time with their young son, Mason, or with the new baby girl. A new report claims that Scott's drinking is getting out of control, and experts recommend that Kourntey stage some sort of intervention now, before things get even worse.
This isn't the first time that Scott Disick has gone off the rails, and, if Kourtney and the Kardashian family don't convince him that he's in trouble, bad times lie ahead. Scott has a lot to lose: his girlfriend and their children. Remember when Scott flipped out a couple of years ago in Miami? Kourtney Kardashian almost dumped him then — and some believe she should've dumped him permanently. If he doesn't get it together this time, maybe this Kardashian couple is finished for good.