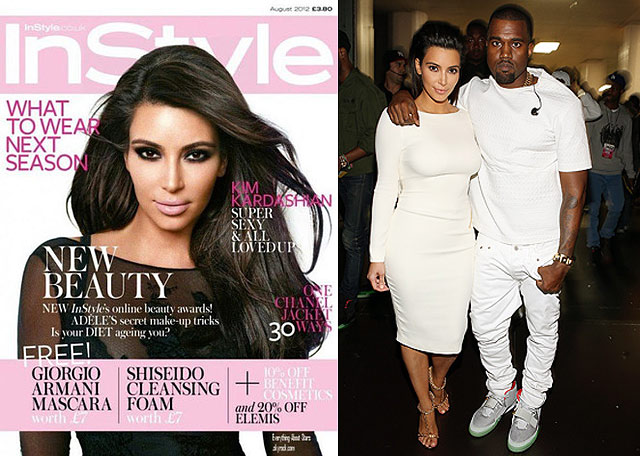 Kim Kardashian fans might want to pick up the latest issue of InStyle UK, if they can find it in the U.S. Kim graces the cover of the August 2012 issue, looking positively stunning! She also gives a great interview, talking at length about her views on love and life. Does she still believe in love, after going through a heartbreaking divorce from Kris Humphries? Yes, she does.
Kim Kardashian tells InStyle UK, "I haven't always been so lucky, but I still do believe in it. Anyone would want to move on and take the lesson learnt from it. I loved this person, it just wasn't the right situation for me. I try to hold my head up high and live my life."
Kim is definitely holding her head high, and she's also enjoying a lot of time in the spotlight for things not related to her sex tape or her high-profile split from Kris Humphries. She was front and center at the recent BET Awards in Los Angeles, where she supported her man Kanye, celebrating when he and Jay-Z won "Best Group" for 'The Throne' and "Best Video" for 'Otis.'
Kim and Kanye looked absolutely gorgeous in matching white outfits at the BET Awards. It's fun to see these two coordinating all their clothes — though there's no way Kanye West could pull off the short skirt and strappy, high heels look!
It's great that Kim Kardashian is in a good place, where she feels she can reveal her feelings about her disastrous, 72-day marriage to Kris Humphries. It has to be therapeutic to get everything out. It's also fantastic that she still believes in true love, and hopefully she's finally found it.