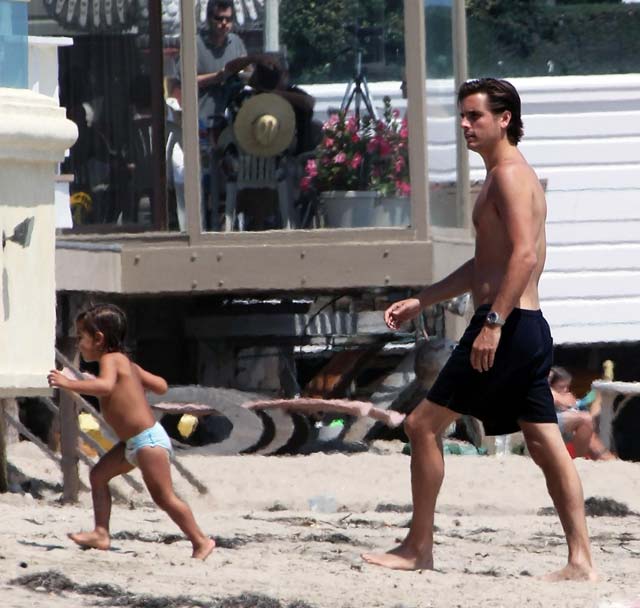 Kourtney Kardashian has her hands full these days, looking after two children, including newborn Penelope and toddler Mason. Fortunately for Kourt, her baby daddy, Scott Disick, is willing to give mom a break! Scott was photographed over the weekend hanging out with little Mason at the beach.
Scott Disick and Kourtney Kardashian's relationship often seems rocky and unstable, but Scott takes his role as fun daddy pretty seriously. A shirtless Scott frolicked with Mason in Malibu, California, recently, playing on the sandy beach and enjoying a dip in the ocean with his adorable, diaper-clad son. Both look like they're having a blast, just being, well, boys!
While Kourtney K. stays home with Penelope, who was born in early-July, Scott has been helping out a lot by taking Mason. Given some of the things Scott has pulled over the years (the drinking, the partying, the flirting, the fighting), he owes his partner this much.
Thankfully for Kourtney's sake, Scott Disick seems to be acting like an actual grown-up at the moment. With his help, and the help of her sisters, Kim and Khloe Kardashian, Kourtney is, hopefully, spending some wonderful mother-baby bonding time with her new baby — and Mason isn't feeling at all left out!