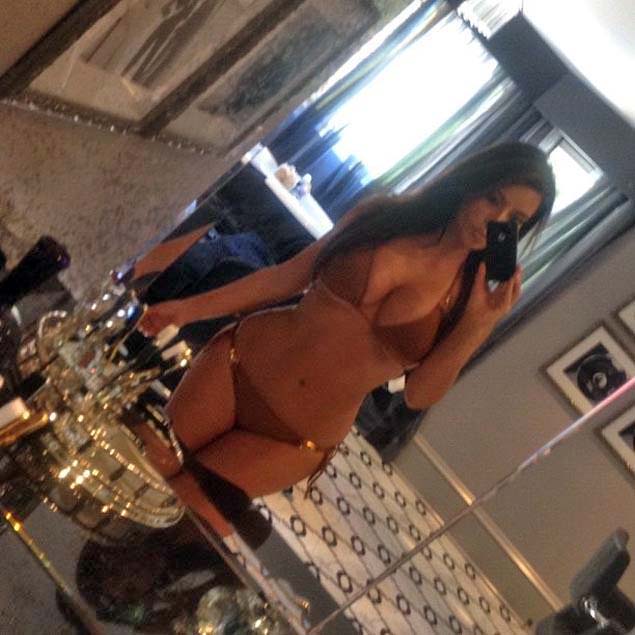 Kim Kardashian gets a lot of media attention, but even so, there are times when the 31-year-old reality star must feel ignored. That's the only explanation for Kimmy's decision, once again, to take to her Twitter account and (once again) post some racy bikini photos for her millions of Kardashianites to enjoy.
What is it with celebrities and gratuitous, sexy Twitter pics? It's got to be an ego thing. We already know they're hot, so why do they feel the overwhelming need to remind us, again and again? That's probably something that should be addressed in therapy. Hopefully Kim Kardashian pays a therapist well — he or she certainly earns their keep.
Late last week, Kim K. decided that everyone on the Internet had simply forgotten all about her. She decided to tweet out some sexy photos of her wearing a (really gorgeous) tan string bikini with gold accents and nothing, #nofilter and #nophotoshop.
Kim Kardashian has a killer figure, and she likes to show it off — so what's wrong with that? Absolutely nothing, especially if you're her boyfriend, Kanye West. After Kim posted her bikini photos, Kanye decided to get in on the action, tweeting out a photo of his lady wearing a stunning, backless white dress that accents her best asset (ahem). His comment? One word: "Mercy."