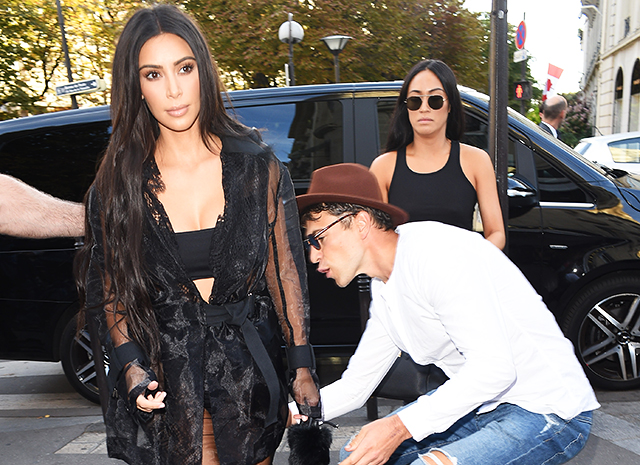 Kim Kardashian has announced that she is going to sue the Ukrainian journalist Vitaly Sediuk, who attempted to kiss the star right into the buttocks, said TRK "Star". According to her, Sediuk is a threat to her and other people.
The incident took place in Paris, where Kardashian arrived to the Fashion Week. When she got out of the car, Sediuk leaned forward and managed to kiss her buttocks. Then the pranker was dragged by the star's guards.
"I protested against Kim's implants in the buttocks. I urge her and other members of the Kardashian clan to promote natural beauty among adolescent girls. PS that day I was sitting in a posh restaurant and eating ice cream. Suddenly, I saw paparazzi surrounding the car and Kim going out. I swear I didn't know that she was supposed to arrive there. The idea what to do instantly came to my mind. Does this mean that I'm not chasing celebrities, but they are attracted to me? Funny! Pleasant evening to everyone, I must go and eat up my ice cream," – commented Vitaly Sediuk on his Instagram page.
That is the second controversial action of Sediuk against Kardashian. In September 2014, at fashion Week in Paris as well, he tried to knock down the star, when she got out of the car.