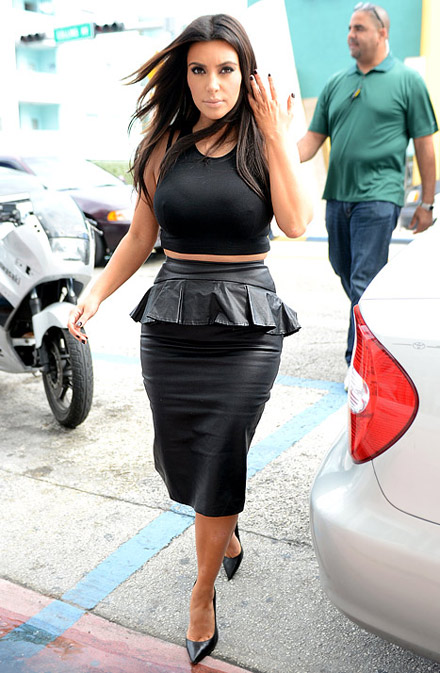 Kim Kardashian's fashion misses are becoming almost as frequent as her hits, unfortunately. Her latest issue: A really seriously bad peplum outfit that did anything but flatter. In fact, it made her look huge and downright freakish. Poor Kimmy: Doesn't every girl know that rarely ever flatters, even if it's made by one of the most famous designers in the world?
Earlier this week, Kim Kardashian stepped out in Miami Beach in an all-black ensemble that included a peplum skirt designed by none other than Alexander McQueen. In other words, that one skirt costs more than most people's monthly mortgage. It might be pricey and exclusive, but it looked positively horrible on Kim, at least in part because she opted to wear the black skirt with a skin-tight black tank top, leaving her midriff showing in spots. And unfortunately, that midriff quickly became a spare tire. Yikes!
What is the deal with Kim Kardashian? She's got a seriously curvy figure that she's famous for, yet she continually wears outfits that go completely against that. The peplum was a bad idea. Hopefully she'll just live and learn, and her fashion choices will get better. What do you think? Despite her fashion faux pas, is Kim K. still one of the most desirable women on the planet?