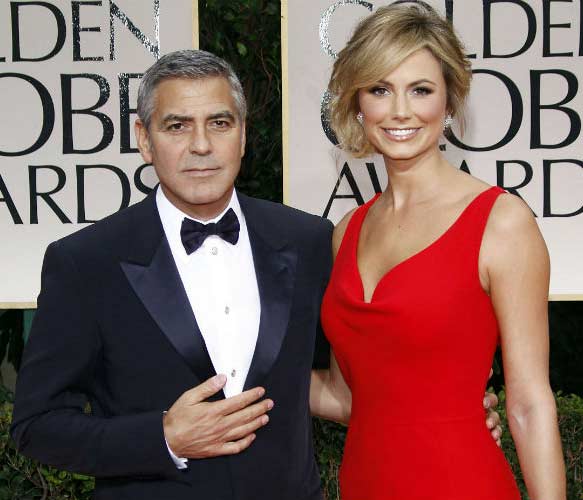 Kim Kardashian is tight with her family, and her sisters, Khloe and Kourtney, are definitely her best friends. But sometimes, a girl wants some non-family girlfriends, right? Kim has had a handful of good buddies over the years, but when you're mega-wealthy and mega-famous, it can be difficult to find true friends.
Kim Kardashian and Stacy Keibler became friends in recent weeks. The pair were hanging out last month at the Madonna concert in New York's Yankee Stadium, for instance. That seems like harmless fun, right? Well, it apparently seemed anything but harmless to Stacy's extremely A-list, super-famous boyfriend, actor George Clooney. At least one report says that Gorgeous George took great issue with his lady love befriending a Kardashian, and basically "banned" Stacy from hanging out with Kim K.
Did this really happen? Maybe, or maybe not. One source is quoted as saying the story is definitely "not true." Still, given Kim Kardashian's reputation, perhaps George Clooney should encourage Stacy to seek other friends, especially if he's concerned that a Kim K. friendship "…could hurt possible career opportunities for her."
Poor Kim Kardashian: First, she's supposedly shunned by Beyonce and now this? Even if it's not true, the fact that it's making headlines is certainly embarrassing.