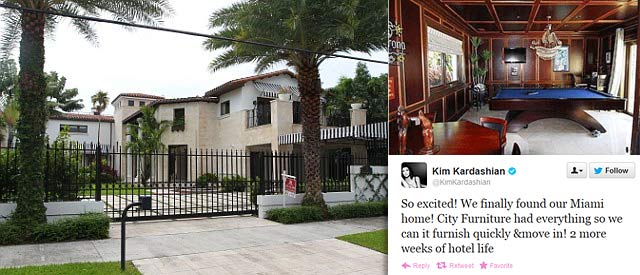 Kim Kardashian says she's finally found the perfect home in Miami, Florida, where she and sister Kourtney are filming the new season of 'Kourtney and Kim Take Miami.' At the moment, no photos of the new Kardashian house are available, but it's probably going to be gorgeous and huge!
Kim K. took to her Twitter account to let all of her millions of followers know that at long last, she and Kourtney Kardashian found their new, special abode. Kim tweeted, "So excited! We finally found our Miami home! City Furniture had everything so we can it furnish quickly & move in! 2 more weeks of hotel life." For those who have seen how the Kardashians' "hotel life" goes, it's not bad. In fact, it's better than most people live day-to-day!
Now that Kim Kardashian has her Florida house, will she and the other Kardashian sisters begin opening additional DASH stores in the area? That's not out of the question!
No doubt fans will start seeing photos of Kim K's brand new house in Miami soon, and it will certainly be heavily featured in the new 'Kourtney & Kim Take Miami' season. Will Kim throw a huge birthday bash for herself there? Stay tuned!