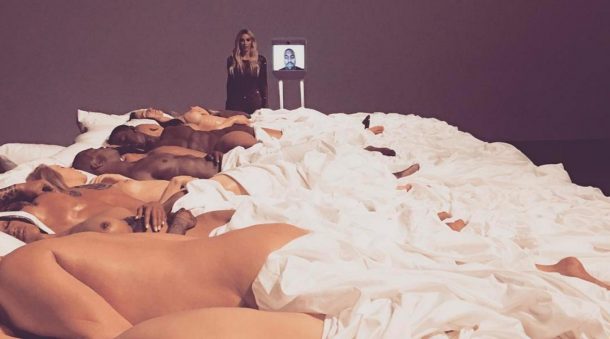 Blum & Poe Art Gallery in Los Angeles introduced a new product — a bed with the wax replicas of famous Americans from Kanye West's clip for the song Famous. All 12 figures on the bed are naked and half-covered by the blankets.
In the art object, as well as in the clip you can recognize politicians George W. Bush and Donald Trump, singers Rihanna and Taylor Swift, journalists and TV presenters Anna Wintour and Kathleen Jenner, musicians Ray J and Chris Brown, actress Amber Rose, actor Bill Cosby, and also the West and his wife Kim Kardashian.
Kardashian opened the show, and her husband welcomed the guests via video conference. The clip Famous, released July 1, 2016, generated the heated debates in social networks, many laughed at the idea of authors. Furniture company IKEA jokingly offered to West to make a bench bed and published its sketch on the Internet. At the same time there was a scandal with the singer Taylor Swift as she was mentioned in the lines "I made the bitch famous." The singer threatened to sue the rapper in court. Get more information about it here.