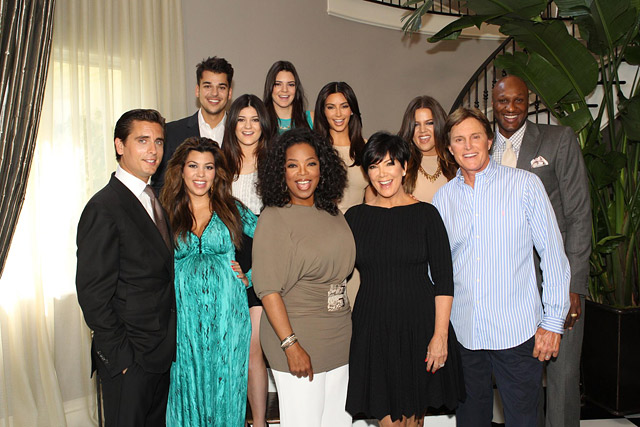 Earlier this summer, Kim Kardashian sat down with Oprah Winfrey to discuss all kinds of topics, including her failed marriage to Kris Humphries and her scandalous sex tape with Ray J. The interview, which aired on 'Oprah's Next Chapter' back in June, was pretty juicy — at least as far as Oprah interviews go. At the time, some wondered whether O would make an appearance on Kim K.'s reality show. Guess what? The answer is yes.
Oprah Winfrey will appear on 'Keeping Up With the Kardashians' later this month, hanging out with the K's at their home in Cali and generally being, well, Oprah. According to a press release fro E!, the 'KUWTK' episode on August 26 will include "exclusive behind-the-scenes access" from the day that Oprah was invited in to conduct her Kim Kardashian interview.
Here's the thing: Oprah, what happened to you? You used to have such a great talk show, and you seemed so above it all. Now you're hanging out with Kim Kardashian and her nutty family, trading favors for publicity. Are ratings for your OWN show really THAT bad?!  It's all just so disappointing!
Whatever the case, Kim K. fans, stay tuned for more Oprah Winfrey/Kardashian goodness in about two weeks. Apparently, the 'Keeping Up With the Kardashians' Oprah Episode will also include some outtakes from the Oprah interviews with Kim, her sisters Khloe and Kourtney, and mom Kris Jenner (who no doubt helped to broker this whole arrangement).