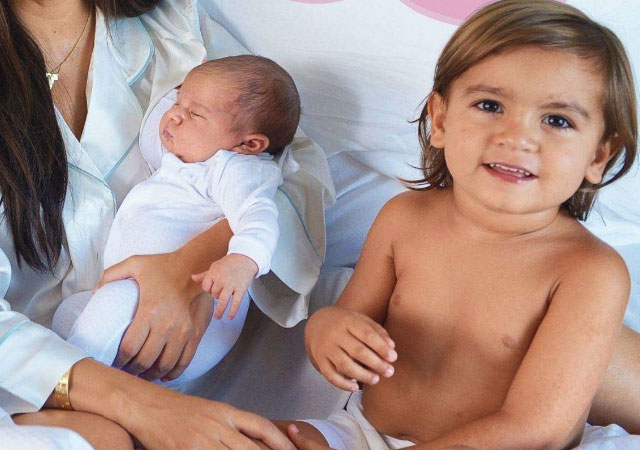 Kourtney Kardashian already had a gorgeous child, and now she has two! Kourtney, son Mason, and new baby daughter Penelope all grace the cover of the latest issue of Us Weekly magazine. The newest addition to the Kardashian family is adorable, if a bit sleepy. Hard to blame her though — those photo shoots are exhausting. Mom Kourtney is radiant, and little Mason is grinning (as he does, often).
Since baby Penelope was born in early July, everyone's been waiting for her public debut. Now, fans have the Us Weekly cover and several candid shots from a family outing. Kourtney, baby daddy Scott Disick and Penelope all went shopping recently. It's likely that Penelope slept through her first trip to Neiman Marcus, but there's time for all of that later.
Kourtney Kardashian kept Penelope in her baby carrier, covered up with a blanket to shield her from the heat, the sun, and probably the paparazzi too. Kourtney looks great, but Scott Disick really should help her carry that huge car seat/carrier thing! And also: Where was Mason? Kourtney and Scott's son wasn't with them on this trip to the Westfield Topanga mall.
Most likely, Mason Disick was with Kim or Khloe Kardashian. The sisters have stepped up in recent weeks, spending oodles of time with Mason while new mom Kourt bonded with her daughter. Plus, would Mason really enjoy Neiman Marcus? Probably not!