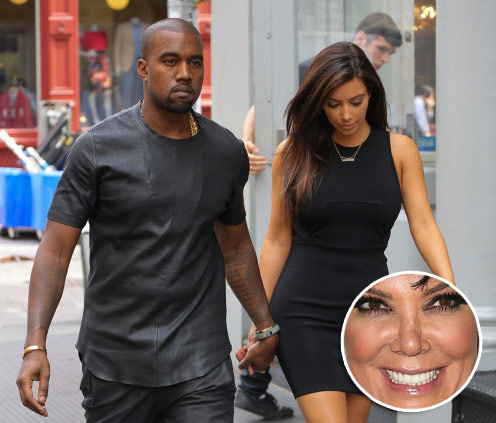 We knew it had to happen: Just weeks after the birth of her first child, Kim Kardashian is once again dealing with her overbearing and opinionated mom, Kris Jenner. And this time, it's very, very personal. What is Kris demanding at this point?
Apparently, Kris Jenner is telling Kim Kardashian that she shouldn't marry baby daddy Kanye West. It doesn't seem far fetched to think that Kimmy is once again pondering a trip down the aisle (her third, for those keeping count). After all, she and Kanye have a daughter, North West, to think about.
Kim's famous "momager" doesn't see eye to eye with her daughter on this issue at all. She's reportedly encouraging Kim and Kanye West to wait to marry, and not to rush into anything – especially given Kim K.'s marital track record. Of course, not rushing into marriage is usually solid advice, but in this case, Kim and Kanye are clearly committed to each other, living together (and building that mega-mansion together) AND they now have a beautiful baby girl together.
Kris: Lay off. Let your daughter decide what's best for her now. Stop worrying about what the world will think of the Kardashian name if something goes wrong and let Kim Kardashian do what makes her happy at this point. She's a mom now, too, and she has baby North to consider from now on.