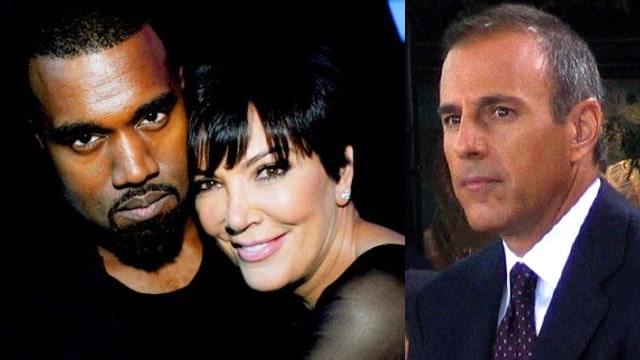 Oh boy, Kris Jenner has really stepped in it now. Kim Kardashian is probably furious with her mom, after Kris supposedly revealed a photo of baby North West to none other than Matt Lauer. Why is this such a huge deal? Because North's daddy hates the Today show host, that's why!
Kim K. and Kanye are keeping a tight circle around their newborn baby girl, and thus far, no pictures of her have surfaced. That sure didn't stop momager Kris Jenner, who's probably already in hot water with Yeezy for suggesting that Kim not rush into marrying him, from showing little North's mug to Matt Lauer.
Here's the thing: Kanye West positively *hates* Matt Lauer. This all goes back to an interview Yeezy did with Lauer about his outburst against former President George W. Bush during a Hurricane Katrina benefit. Kanye has hated Matt ever since, and now Yeezy's own mother-in-law is showing private photos of the baby to him?
You can imagine how furious Kanye is, and Kim Kardashian is no doubt trying to keep him calm. She's caught, though, between the man she loves (and the father of her child) and her mom. That's a tough situation. According to an anonymous source as saying that once Kris Jenner finished her Today interview with Matt Lauer, "Kim called her mother, at Kanye's direction, telling her not to show any pictures she had of Nori to anyone. Kim was freaking out because Kanye was so angry. Kris just blew her off and promised she wouldn't."
This is just bad, bad, bad for everyone. This week has been positively packed with reports of problems between Kim Kardashian's mother and Kanye West. Hopefully Kim has the good sense to side with her boyfriend and (probable) future husband, instead of with her fame-hungry mom who'll do anything for publicity.
And here's hoping that by next week, this brewing storm will have subsided.