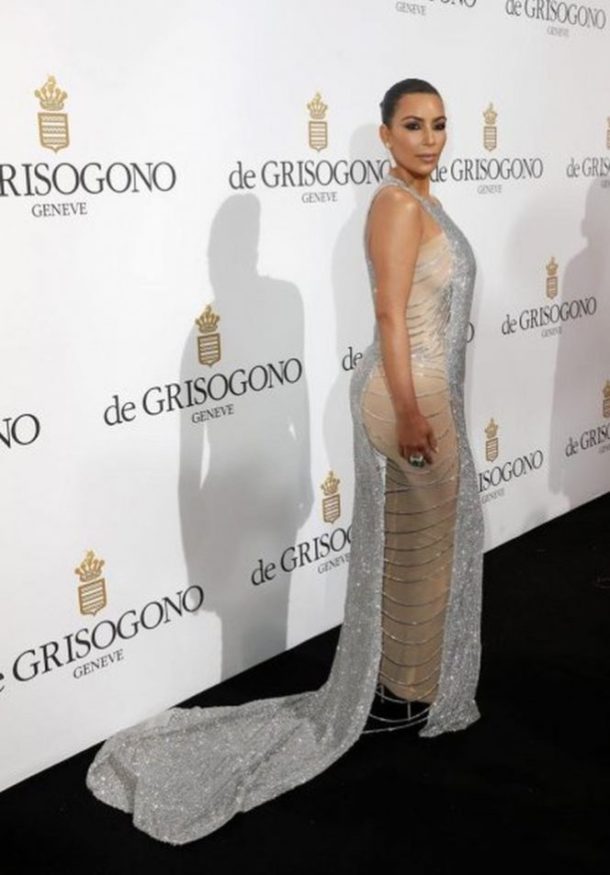 Kim Kardashian has once again demonstrated her excellent shape and extraordinary personality – on the Red Carpet of the Cannes Film Festival she has appeared in a sexy outfit. The audience was delighted, and the model was satisfied by her look.
According to Kardashian, she really could not find a suitable dress for such a significant and popular event, going through one outfit after another. So, she decided to ask designers, who flew straight from China, for a help and they presented to her their version of the dress. The star gladly agreed, and calmed down that she would look great.
Kim Kardashian's dress has a rather unusual style – lining and at the same time a "frame" of the outfit sits tight on the figure, and silver plume and the fabric itself adds to the high cost. On the sides of the dress there are gorgeous openings, and the front with the back of the outfit is connected by thin lines resembling chains. In addition to her great look, Kardashian made a ponytail and dramatic makeup, emphasizing her eyes, and only adding tone to the lips. The model looked flawless, and once again emphasized her ability to choose stylish chic looks.