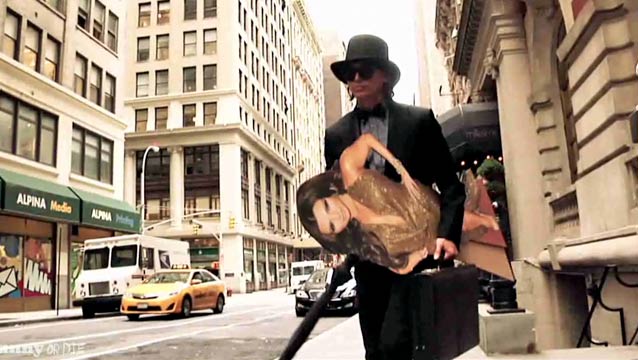 VIDEO: https://FunnyOrDie.com/m/70vu
Kim Kardashian has one truly hilarious best friend in Jonathan Cheban. For those who don't know, Jonathan is not only Kim's BFF, but he's also friends with most of the Kardashians, including Kourtney's baby daddy, Scott Disick. He works as a public relations executive at Command PR — because really, even Kim K's best friends *do* have to work for a living.
Now, in one of the best Funny or Die spoofs of the year (so far), Jonathan Cheban explains that he's "beyond exhausted" by Kim Kardashian, though he's always "right by her side." The Funny or Die Kim Kardashian video features Jonathan taking viewers through his day to day experiences being Kim's bestie.
Cheban gives an "interview" where he discusses, at length, what it's like being around Kim 24/7. That wasn't the initial intention — the interviewer clearly set this up so Jonathan could discuss HIS projects, not just the Kardashians. Jonathan has a blast, explaining that no, he doesn't want to appear on a "best friends" season of 'Dancing With the Stars' with Kim. He has a life of his own, thank you very much!
Now for the real question: What did Kim Kardashian think about Jonathan's "revealing" interview on Funny or Die? She apparently loved it, tweeting, "I'm still dying laughing @JonathanCheban!!!! The new ML!!!! Hahahahaha." Khloe Kardashian also weighed in, saying, "OMG this is hysterical, I can't breath" (she meant breathe, of course) and adding that Jonathan Cheban is just "too much!"
With all the serious drama that follows Kim Kardashian everywhere she goes, it's nice to have a little funny once in a while, isn't it?