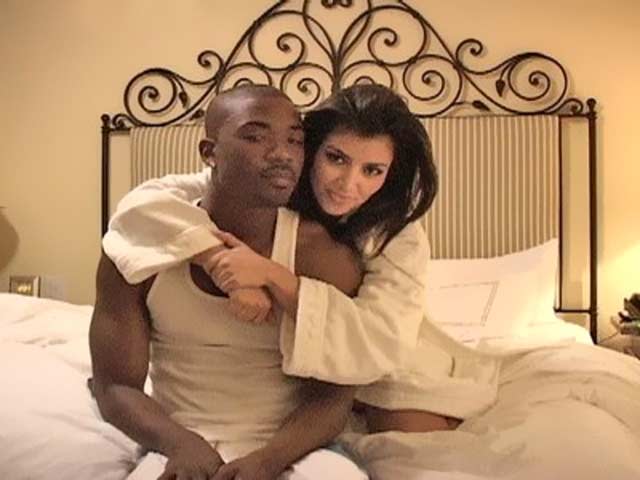 Ray J really needs to learn to let things go. That's probably exactly what Kim Kardashian is thinking today, after her ex-boyfriend (and co-star on that now infamous sex tape) made a sly, totally backhanded response to her on Twitter. You would think that after all this time, this blasted sex tape wouldn't keep coming back up. But it does. Over and over again.
Here's what went down: Kim Kardashian initially sent out a tweet to her gazillion followers saying that it's super important to remember that people are "not defined by our pasts." It's impossible to know exactly what she meant — was she having some sort of delayed meltdown about the sex tape, or perhaps her nasty divorce from Kris Humphries? Either way, she put it out there for all the world to read.
"All the world," apparently, included her ex, Ray J. The R&B singer wasted little time in responding, sending out this via Twitter: "Lol RT @KimKardashian: Keep your life in a positive perspective. We are not defined by our pasts." Within minutes, Ray J's retweet has been retweeted thousands of times, setting off a Kim K and Ray J Twitter frenzy, and sending both of them to the top of the Twitter trends.
Was Ray J just being a tool? Is he bitter about Kim Kardashian and their failed relationship? Is he jealous of Kim's new, seemingly happy hookup with Kanye West? Probably all of the above, but it's also quite clear that Ray J has trouble letting go of the past. If he didn't, he never would have made the little "Lol" comment to Kim K on Twitter. Perhaps it's time to grow up!