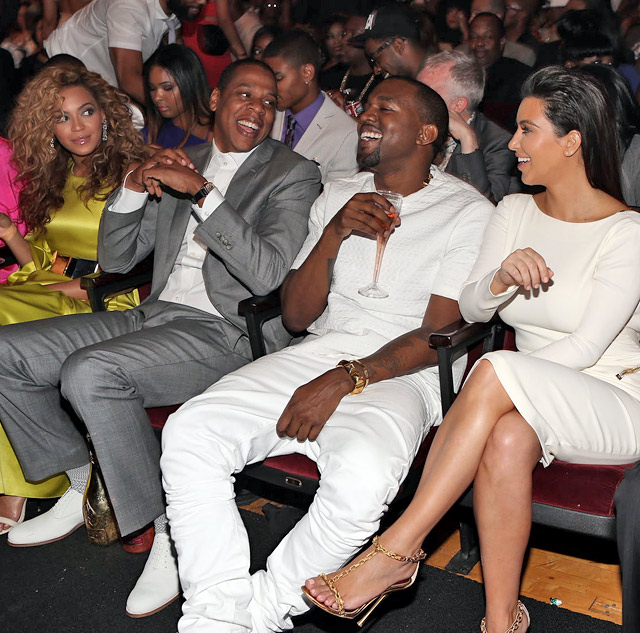 Kim Kardashian probably doesn't have many true female friends, at least, not outside of her immediate family. That's just part of the deal: When you're young, hot and a Hollywood mover and shaker, plenty of women won't want to be your friend, because they don't want to compete with you for all the attention.
One friend that Kim K. definitely wants is Beyonce Knowles. Bey's hubby, Jay-Z, is besties with Kim's new man, Kanye West. It really would be great if these four could connect. All of them are super wealthy and move in circles that most of us would only dream of being in. There wouldn't be any catty jealousy, because Bey and Jay are happily married, and Kimmy seems totally head over heels for Kanye (and vice versa).
But Kim Kardashian's attempts to make friends with Beyonce might not be going so well. One recent report claims that Beyonce's irritated because Kim is "trying to buy" a friendship with her. What did Kim do? Reportedly, she purchased a $5 thousand bracelet for Bey's new bundle of joy, little Blue Ivy Carter! Not only that, she also had the bracelet engraved, saying "Love Auntie Kim."
Yeah that's a bit much. Kim Kardashian needs to remember not to push so hard. The best friendships in life come about gradually, just like some of the best relationships. You can't force friendship anymore than you can force love. Kim just needs to take a step back, for now. If she and Beyonce are meant to be besties, they will be — eventually.