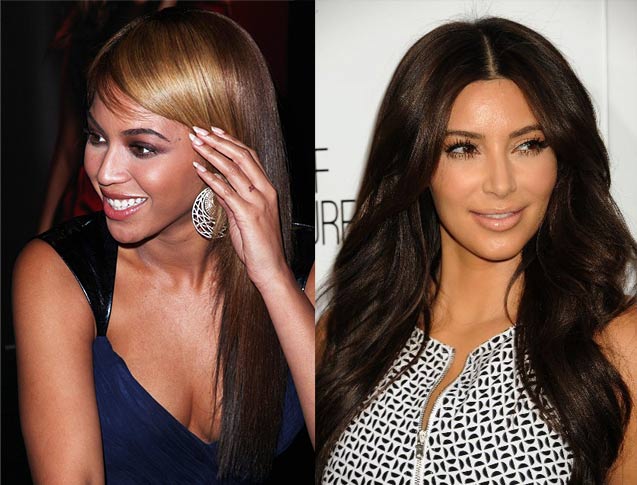 Ever since Kim Kardashian hooked up with boyfriend Kanye West, she's been trying so hard to become best friends with Beyonce. It makes sense, because Ye and Jay-Z are so close — it would be fantastic if Kim K. and Bey could become BFFs. Alas, it's not going to happen: Reports say Beyonce snubbed Kim again over the weekend.
Kanye West and Jay-Z both performed at the big Made in America music festival in Philadelphia, and while both Kim Kardashian and Beyonce were on hand to cheer on their men, they didn't hang out together while doing it. In fact, the New York Daily News quotes sources as saying that Kim and Bey behaved more like frenemies than friends, saying the two "barely spoke to each other" and that Beyonce "didn't even acknowledge" that Kim was there until it was "almost over." Kim and Beyonce later made a little "small talk," but we all know how that goes: It's just a thing you do to keep up appearances.
Poor Kim Kardashian. She was trying so hard to get in with the good crowd. No doubt she'd love having Beyonce as her best buddy, but Bey's having none of it. This has to be totally awkward and strange for Kanye West, too. He's with Jay-Z and Beyonce so much now because of their tour and all the appearances together — if these two women are not only not friends, but dislike each other? That's big, big trouble.
Obviously at this point, if Kim Kardashian and Beyonce aren't close, they probably never will be. Should Kim continue to try and befriend Bey, or just let it go? This weekend, when she was snubbed, she played it off and didn't really make any effort to talk to Beyonce. Good plan or does she need to keep at it?