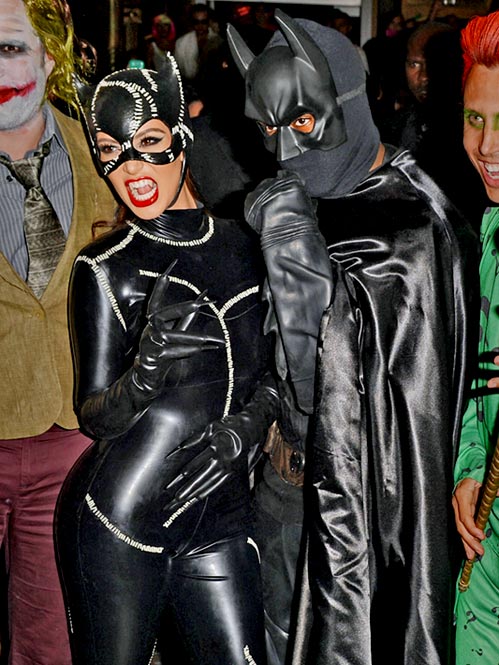 Remember Kim Kardashian's crazy looking mermaid Halloween costume from earlier this week? Well, that wasn't her only costume. No, Kimmy was saving the big reveal for Halloween night, when she arrived at a swanky Miami Beach party dressed as Catwoman!
Kim Kardashian actually hosted the Halloween bash at the LIV nightclub at the Fountainbleau hotel, so obviously she needed to go all out with her costume. She even got boyfriend Kanye West in on the act, because he came as — you guessed it — Batman. The costumes were super cute, and Kim's was also super-tight, accentuating Kim's remarkable curves. Seriously, there is no way she could breathe easily in that get up, is there?
Kim K. made sure that her entire family was in on the Halloween fun, because sister Kourtney Kardashian came to the LIV party dressed as Batgirl. And her boyfriend Scott Disick? He opted for a Robin costume. Kim's best friend, Jonathan Cheban, came to the party dressed as The Riddler.
If there's one thing everyone can count on each Halloween, it's Kim Kardashian in at least one totally great costume!