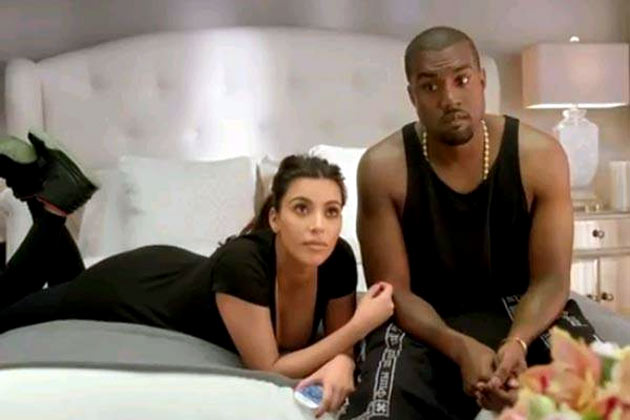 The MTV Video Music Awards are coming up in less than a month, and Kim Kardashian and Kanye West are getting in on the action. A new promo video that debuted on Wednesday shows them trying to enjoy a little couple time while the 2012 VMA's host, Kevin Hart, tries to coordinate his outfit with theirs.
Naturally, Kim and Kanye are perfectly color-coordinated with their clothing in the promo, and Kevin Hart just wants to be sure he's all a part of that. In fact, he wants to turn the "it" couple into an "it" threesome, "KevYeKim," or "YeKevKim," just in case Kanye took issue with not being named first.
It's a cute promo, and it definitely teases the fact that yes, Kim Kardashian WILL be attending the MTV Video Music Awards on September 6 to support her man — who is up for three major awards. Good for Kim, because this is clearly where she shines and feels and looks quite comfortable.
Will Kim K. be asked to present any awards? It would be great if they asked her to present one that Kanye wins!