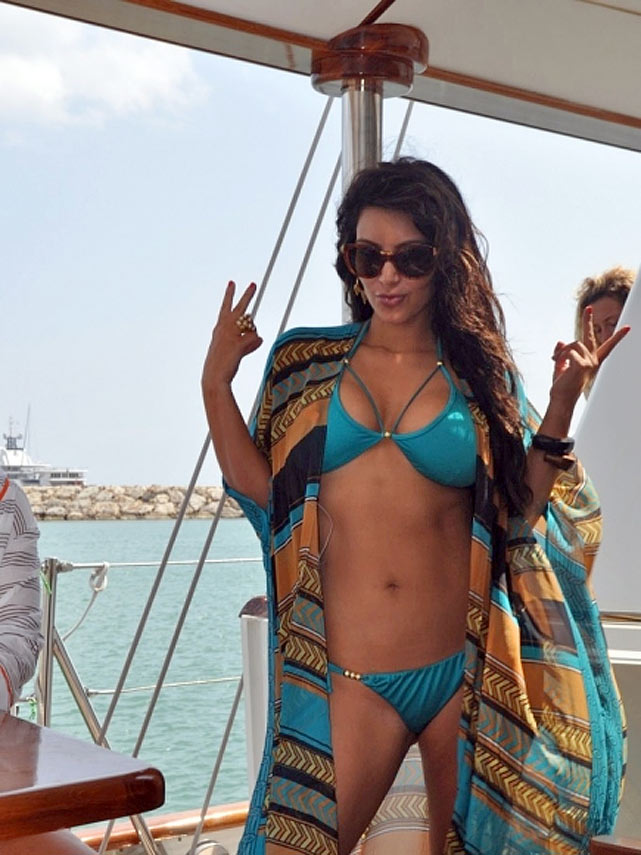 Does it seem like the Kardashian family, Kim Kardashian in particular, are always on vacation? Kim certainly travels a lot, whether it's with boyfriend Kanye West or by herself. She's definitely bicoastal, but in recent months, she's gone much more international. Between Cannes, London, Paris and now the Dominican Republic, how can anyone keep up with this Kardashian?
Kim K. and her family's Dominican Republic vacation was featured recently on their hit reality show, 'Keeping Up With the Kardashians,' so many of us have seen video clips of the group enjoying fun in the sun. But Kim has decided to dip into her personal stash of family photos from the trip, to give everyone even more reason to be green with envy!
In the new photos, Kim Kardashian sports a stunning aqua bikini as she poses with sister Khloe. Kim says that the trip to the Dominican Republic was her "favorite family vacation yet," and it's easy to see why in the pics. Kim poses in her swimwear with sisters Kylie and Kendall, too. Momager Kris Jenner also makes an appearance, though (thankfully) she's wearing a nice coverup over her swimwear.
Kim K. promises that this isn't the only set of summer vacation 2012 photos she'll be posting, teasing everyone and saying that "lots more pics" are coming soon. Looks like she had a great time, but how could she not?