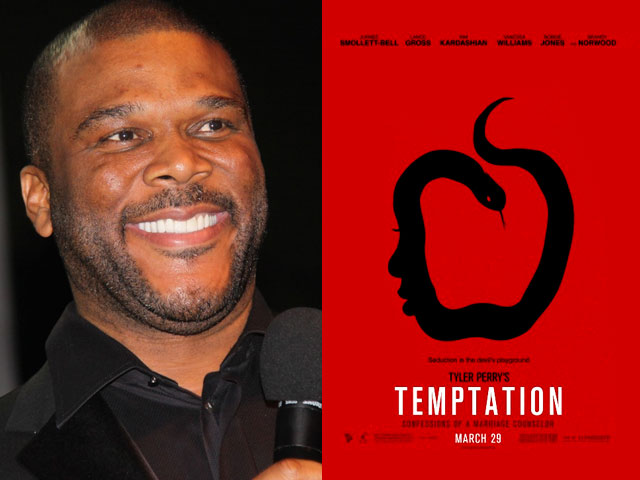 Kim Kardashian has already filmed her role in Tyler Perry's upcoming new film, 'Temptation: Confessions of a Marriage Counselor,' and now the world has it's first look at the movie's poster. Kimmy was kind enough to put a photo of the sexy-looking, simple poster this week via Instagram, and yes, it was a good decision. The media went nuts — and it's fantastic publicity for Kim and for Tyler Perry.
So far, no actual footage of Kim Kardashian's Tyler Perry movie role has surfaced, but no doubt the clips will begin to emerge as the film's release date draws near. Right now, 'Temptation' is set for wide release in the U.S. on March 29, 2013. Fans will have to wait a few more months to see Kim K.'s big screen debut.
Now the question is: Can Kim Kardashian act? Sure, she's had bit parts here and there on television, but a big role in a major motion picture is an entirely different thing. Tyler Perry has said that he felt Kim did a great job, so we'll find out in late-March. Wonder if Kanye West is contributing any tracks to the 'Temptation' soundtrack?
One thing's for sure: In 2013, Kim K. is going to try and upstage Khloe Kardashian. Koko has the great new gig on 'X Factor,' but Kim is one-upping her by starring in a Tyler Perry movie. Will she do well? What do you think?