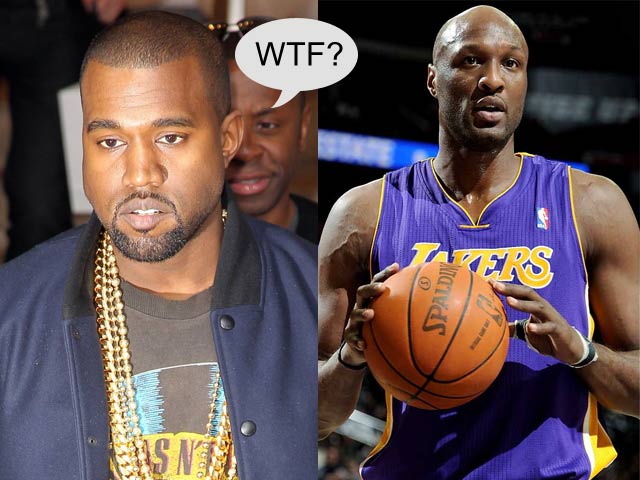 Khloe Kardashian has a red-hot career at the moment, as does her husband, NBA baller Lamar Odom. But while Khloe is nothing but super supportive of her Lam Lam's basketball career, she's not quite as excited about his side hobby. Why? Because apparently, Lamar Odom has decided that in addition to the NBA, he wants a career as a rapper. Kind of.
During yet another revealing interview (Khloe really tends to drop some big secrets when she's interviewed), KoKo said that Lamar Odom actually likes to rap and he's even written some rap lyrics for Kim Kardashian's boyfriend, Kanye West. Does Yeezy take this seriously? If he hates what Khloe Kardashian's husband sends him, he'd better be careful in how he rejects Lamar. This could start a war between Khloe and Kim!
Khloe Kardashian says that Lamar goes on writing tears, and he'll email Kanye "crazy rap lyrics." She says she then has to go to her sister, Kim, and say "I'm sorry, he did it again last night." Ha! Anyone who's seen 'Khloe & Lamar' or 'Keeping Up With the Kardashians' knows that Lamar does tend to stay up late doing various things (usually playing video games at 3 a.m. when Khloe's trying to sleep). Now, thanks to Khloe, we all know his latest, and not-so-greatest hobby!