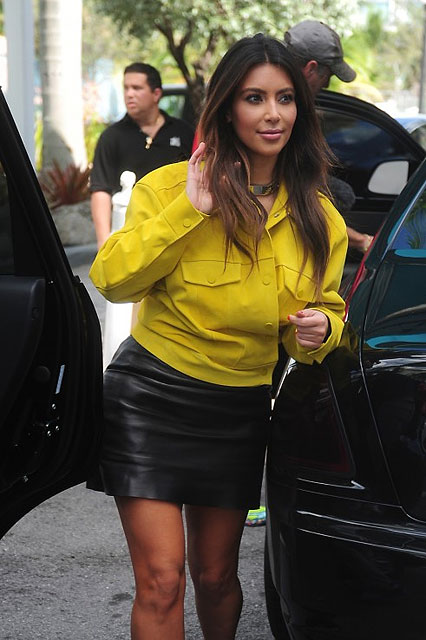 Kim Kardashian is arguably one of the most photographed women in the world. As such, everyone is constantly bombarded by photos of whatever outfit Kim K. decided to wear on any given day. That's a lot of pressure, and even a fashion diva makes a mistake — or two.
Kim actually admits that she occasionally screws up when it comes to her outfits. In a post on her official blog earlier this week, Kimmy openly criticized her own choice of outfit last week, when she paired a very unflattering, neon-yellow jacket with a short, tight leather skirt. Kim wrote that she really was going for "a little color," but admits she overdid it, saying the jacket she wore wasn't "the right cut" for her.
It's great that even the mighty Kim Kardashian can come clean and fess up when she makes a huge fashion misstep, but she might want to post another blog about her (bad) decision to wear tight leather pants as she arrived back in Miami on Wednesday. Really, Kim? You should have checked the weather reports: It was 86 degrees! Granted, Kim probably went from the air conditioned airport straight to an air conditioned car and house, but still — that's not a Miami-friendly look!