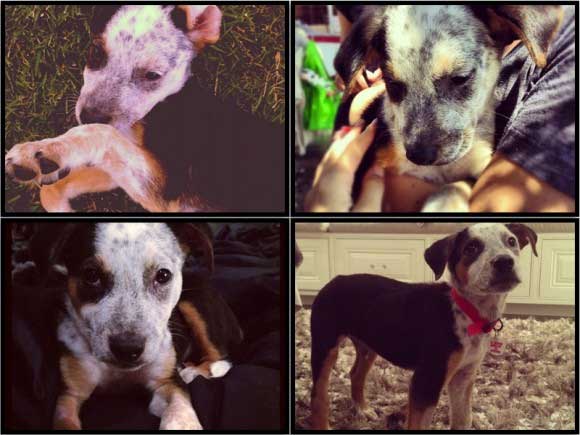 Kourtney Kardashian might be grabbing a lot of headlines for giving birth to her new baby daughter last month, but little Penelope isn't the newest Kardashian baby. Not exactly. That honor goes to Jackson Odom Jenner, the youngest new member of the famous family. And yes, he has four legs — not two.
Kendall and Kylie Jenner decided to surprise older sister Khloe Kardashian Odom with a new puppy for her birthday. They rescued an absolutely adorable Australian Shepherd mix and proudly presented him to Khloe. As with most super-cute puppies, the girls fell head over heels. So much so, that they decided to share parenting duties with Khloe!
Kylie and Kendall Jenner were given the honor of naming the new Kardashian pooch, so they chose Jackson. The dog's surnames, Odom and Jenner, reflect his unique parentage, of course. In her blog, Khloe Kardashian Odom explained that she actually did throw out a few different names for the pup, but they "…were apparently a little too out there for my sisters." Jackson is an excellent name; the teens did good.
Who wants to bet that Jackson will be the most pampered pooch ever? Lucky, lucky dog!