It was a wild weekend for the Kardashian sisters in London, as they arrived just in time to help launch their brand new clothing line. Kim, Khloe and Kourtney Kardashian very nearly caused a riot, as crazed fans did anything they could just to get a glimpse of the trio. The scene got so rowdy that police had their hands full. If everyone thought the Kardashians were popular in the U.S., they are apparently even more so in the UK.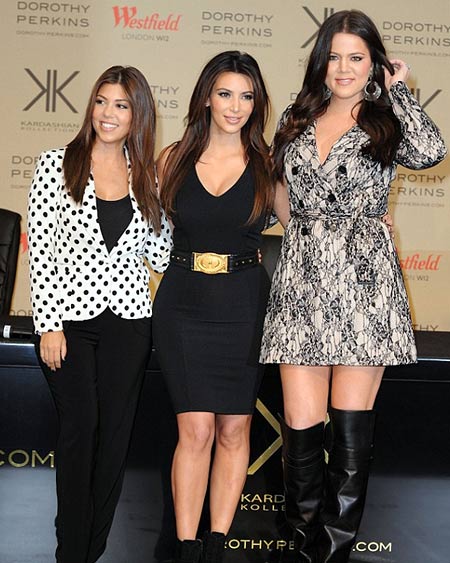 Picture this: Kourtney, Khloe and Kim Kardashian arrived at the tony Westfield London Shopping Centre early on Saturday morning, eager to promote their Kardashian Kollection clothing line with Dorothy Perkins. What they found when they arrived was nothing short of a mob scene, as thousands of Kardashian fans crammed towards the shopping center. Things got so tense that security guards and police had to pull some crushed fans to safety!
Fortunately for the Kardashian sisters, everyone was eventually ushered in and stood impatiently waiting for the big event. Kourtney took the stage first, followed closely by Kim and Khloe, who seemed to love all of the hoopla surrounding the day the most. Fans were allowed to, one at a time, approach each sister and get their autograph. All that crazy, crushing stampeding just for a moment with a Kardashian? Apparently so.
Who says the Kardashians' popularity is fading? That's simply not the case — especially when they are literally being mobbed by throngs of screaming fans wherever they go!