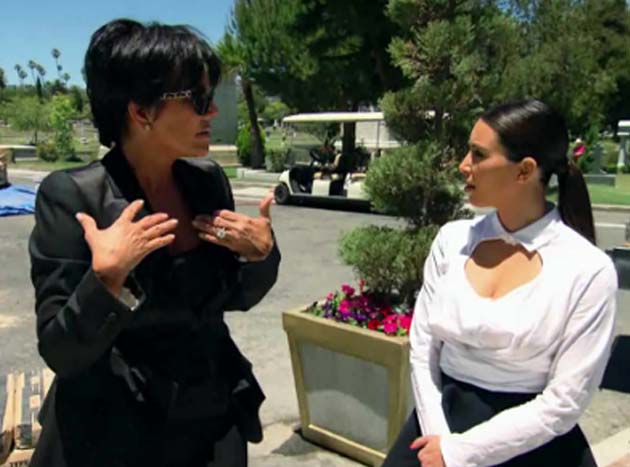 Last week, Twitter decided to "kill" Kris Jenner. Of course, Kris is still alive and well, but what would a week in the Twitterverse be without a fake death hoax, right? In a bit of an eerie coincidence, this week on 'Keeping Up With the Kardashians,' Kris' thoughts turned to planning her own funeral — just in case. Planning for the inevitable is not a bad thing, but with Kris Jenner? It's just plain over-the-top Kardashian Krazy.
Kris Jenner decided she wanted to get a jump on her funeral planning, in the event that something unforeseen happens. Obviously everyone hopes it doesn't, but Kris took things to the extreme: She visited a cemetery, made the family go along and then proceeded to explain *exactly* what she wanted, right down to the flowers. Sheesh.
Give the woman some credit: She's nothing if not super-efficient. One good thing that came out of this was that Kris' planning got everyone discussing who would take care of Kourtney Kardashian and Scott Disick's little boy, Mason, if anything happened to his parents.
Kids always come first, and it turns out that Kourtney is prepared. She announces to everyone that Khloe Kardashian would be Mason's legal guardian if something ever happens to her. Kim Kardashian is really upset and feeling left out (isn't that always the case with three sisters?), so Khloe and Kim strike a deal: Khloe is the legal guardian, but Kim will be the person who'll handle everything financial-related in Mason's young life. Problem solved! Voila!
Let's be really honest: This is all heavy stuff, and it's hard to believe the Khloe/Kim/Mason situation was resolved so easily. No fighting? No hours-long discussions? This is reality TV, after all, but sometimes it's not all that realistic.