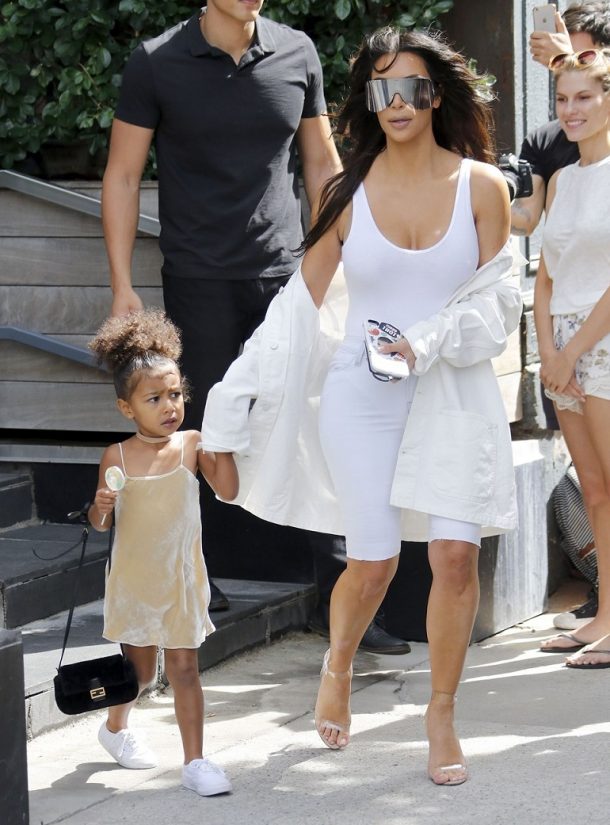 Kim Kardashian loves to attract attention, so she didn't seem to mind when leaving a NY restaurant "Capri" with her daughter North they were surrounded by paparazzi. They had something to photograph besides the forms of the 35-year-old star. On the shoulder of three-year-old North there hung a little bag from the latest collection of Fendi that is worth $ 2,000. Interestingly, the girl didn't look too impressed with her new accessory.

However, the daughter of the reality star have long been used to such things. Almost from the first he day of her life her parents dressed the girl up in designer clothes. They don't stint  other expensive gifts. For example, for Christmas the parents gave North a dollhouse worth $ 70 000, which was all about what can only dream of, including puppet marble tub with gold initials of the girl…

However, North is still not a child to envy, because her life is not easy. Kim and her husband Kanye West have decided that they will be able to make her a superstar, so she has no right to waste a minute of time. The girl follows the tense schedule made up by her parents. According to this schedule, she has only half an hour a day on games and an hour to communicate with her parents. The rest of the time she has to devote to useful occupations, which include: fitness classes, gymnastics, swimming, French lessons, ballet, flute, Chinese calligraphy(!), makeup and, of course, acting. Despite her young age she has become a regular participant of the reality show with Kardashian family, so she has to keep up.