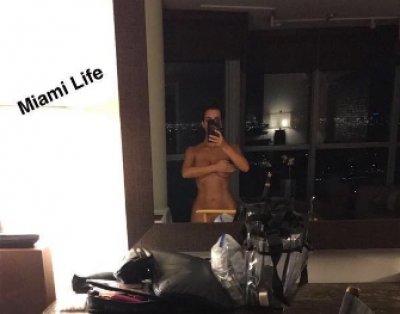 The scandalous American model Kim Kardashian has once again stripped for the audience – this time the wife of Kanye West demonstrated the effect of her tanning.
The other day Kim Kardashian returned from Mexico, where she was vacationing with her children. However, the socialite did not have time for sunbathing on the resort Punta Mita. And that was not because the eccentric model devoted all her time to her little children.
In four days Kim changed 9 bikinis as well as several glasses to make 6 000  selfies. Kim Kardashian just didn't have time for the sun and her son and daughter, as she did not only have to change for photo shoots, but also to change her hairstyle every few hours.
However, on arrival in Miami Kanye West's wife went to the beauty salon to get a body tan. Kardashian decided to use Snapchat to show her fans the results of applying the bronzer. She demonstrated it, being completely naked, but that did not surprise her fans, who are used to see her naked. Fresh pictures and video of the nude Kim Kardashian can now be seen in the Instagram community.
All in all, Kim Kardashian has never been prudent about her body. You can check naked Kim Kardashian in her notorious sex tape here.