Kim Kardashian was a guest on the ABC talk show 'The View' on Wednesday, and she responded to several pretty tough questions. This interview was far more difficult for Kimmy than her cozy, lovey-dovey sit-down with Oprah Winfrey not long ago. Kim actually handled the tough questions pretty well, considering. By now, though, she's probably used to them.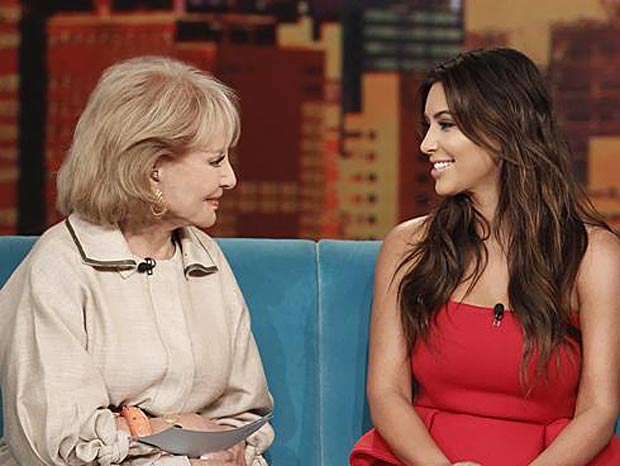 Barbara Walters, not surprisingly, asked the most direct and pointed questions. After Kim Kardashian went on about how she cares a lot more now about "the simple things" in life since her divorce, Barbara asked Kim if she believed that Kanye West was her "perfect match."  What did Kim K. say? "I think so."
If anyone doubts that Kim Kardashian is very serious about her relationship with Kanye West, they probably don't know. Kim was actually pretty up front with her feelings, saying that Kanye has "always been the most supportive person" in her life. Kris Jenner's head probably exploded after she heard that! After all, isn't Kim's momager supposed to be her rock?
Kim Kardashian also answered a pretty personal question from The View's Elisabeth Hasselbeck, who asked if she saw herself with children, going to soccer games (like normal moms around the country). Kim didn't hesitate, saying, "Absolutely" and adding, "That's something I've always wanted. Especially now. Having a shift in priorities in my life."
Wow! Is it difficult for anyone else to picture Kim Kardashian and Kanye West hanging out on a Saturday afternoon at their kid's soccer game?