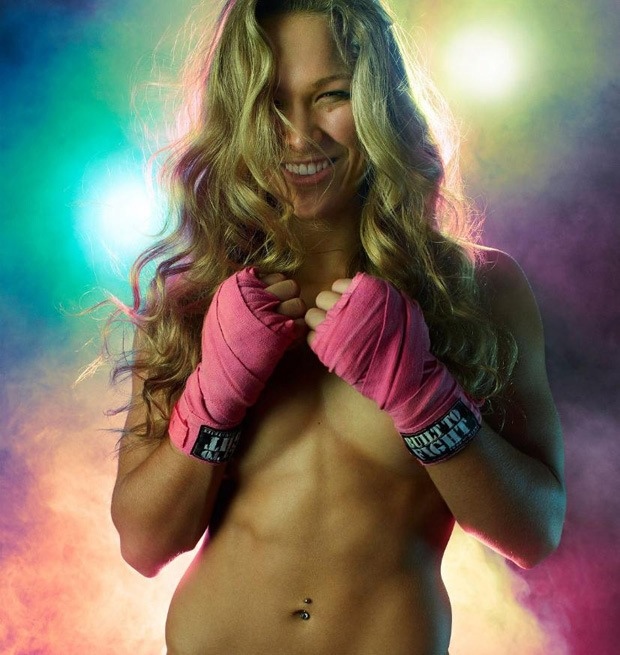 It's no secret that Kim Kardashian certainly has plenty of detractors, many of whom cite her "famous for being famous" status. That might not be fair, but that's how it is. Now, Kim has a bitter new enemy, and unfortunately, she's an MMA fighter. Uh oh?
MMA champion fighter Ronda Rousey made her feelings about Kim K. known during Wednesday night's ESPY awards. When asked by an interviewer who she'd like to fight, she said Kim! Kanye West might want to keep an eye on his girlfriend whenever she's in the same state as Ronda Rousey. This is one strong woman and she wants to beat up his girlfriend!
DUring an interview, Ronda Rousey said she'd love to fight Kim Kardashian:
"You know what, I would beat the crap out of Kim Kardashian. Any girl who is famous and idolized because she made a sex video with some guy and that's all that you're known for, 'Oh, I got my fame for (expletive),' I think it's pretty stupid, sorry, but it's true."
So there you go. This woman isn't kidding. She really hates Kim Kardashian and thinks she's a bad role model for her young sister. Hopefully Kim will steer very clear of Ms. Rousey in the future. It seems nuts that Rousey would really start wailing on poor Kim while she's at a celebrity (or sporting) event, but just in case, perhaps it's time to beef up the bodyguards?