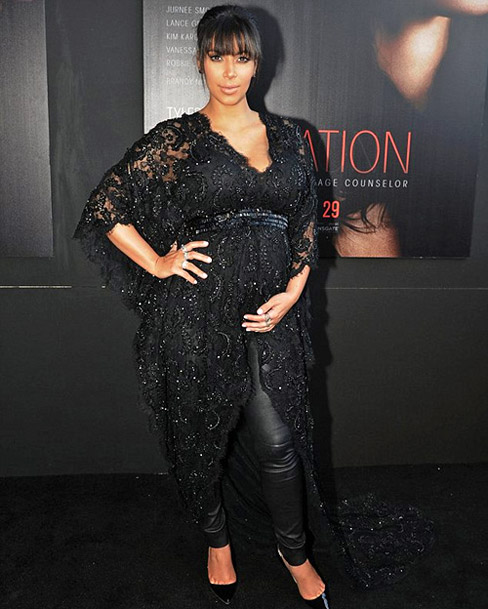 After months of waiting, fans of Kim Kardashian will soon be able to see her on the big screen, in a starring role in Tyler Perry's 'Temptation: Confessions of a Marriage Counselor,' which opens nationwide later this month. Over the weekend, though, it was time for the star-studded premiere of the movie in Perry's native Atlanta, and Kim K. was there.
Kim Kardashian glowed on the red carpet as she proudly showed off her baby bump with boyfriend and baby daddy Kanye West. The power couple, not surprisingly, were the hit of the night. Kim looked ravishing in a gorgeous black ensemble that really flattered her growing curves. Her makeup was tasteful and minimal and her hair was swept up. She really is glowing!
Critics have yet to weigh in on 'Temptation.' Will Kim K.'s first movie performance get her some stellar reviews? That remains to be seen, but it's great for her career either way.
As for her pregnancy, Kim Kardashian is now admitting that being pregnant isn't always glamorous and easy. In fact, she says, it's the opposite. She said that it's definitley "not as easy" as Kourtney Kardashian "made it look," adding that, "it's a little painful at times. I've gotten sick a couple of times and that puts you out especially when you travel. It's getting a little more difficult."
Hopefully the rest of Kim Kardashian's pregnancy will get easier. She's got to lay off on all the traveling at some point, don't you think? Rest is key, and with her crazy schedule, it's hard to imagine where and how she manages to fit in some relaxing down time!