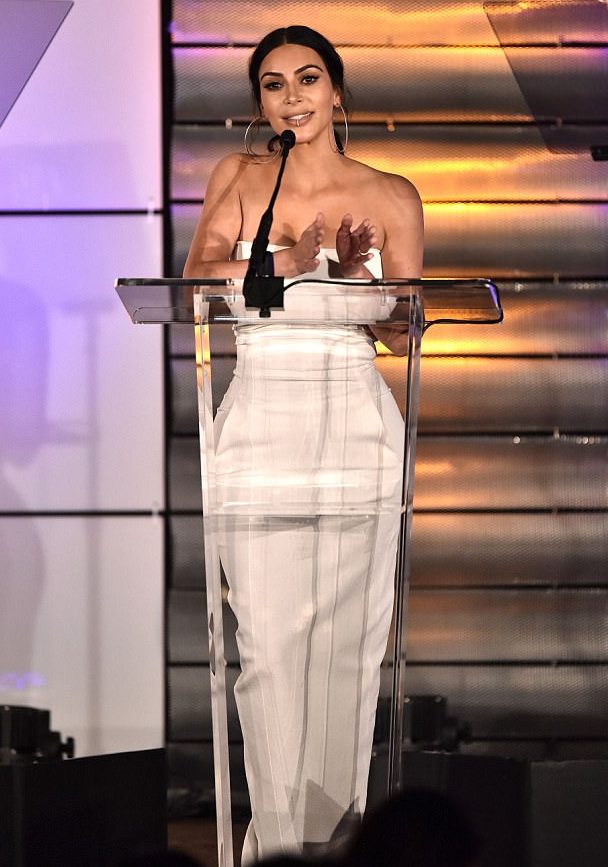 36-year-old Kim Kardashian surprised her fans by the elegant look for the ceremony Family Equality Council"s Impact Awards in Los Angeles. It was dedicated to the support of same-sex marriages in America.
Kim was a guest star and presented an award to the television producer Jonathan Murray and his partner Harvey Reese for their contribution to the struggle for equality and help in the LGBT community.
Kim appeared in a stunning long white dress by Rick Owens and emphasized her image with big round earrings. Also Kim had her main accessory on — a lip ring. The star hid her luxurious hair in a ponytail and used a minimum of makeup.
Earlier, Kim's sister Kourtney Kardashian posted a photo in Instagram. There was Kourtney herself and her four year old daughter Penelope. A photo might seem trivial, but for one thing: in the lower lip of Penelope there was a ring. The fans immediately noted that the girl repeated the image of her aunt Kim, who not so long ago appeared in public with the same accessory. And Kourtney commented: "Yeah, that 's a lip ring. Thank You, Kim Kardashian."