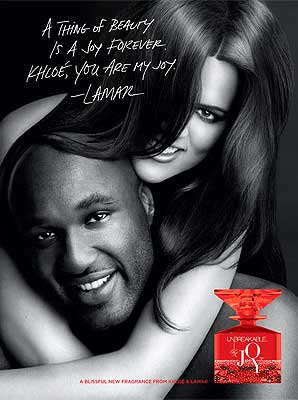 Khloe Kardashian Odom and her famous NBA hubby, Lamar Odom, are at it again: These two are promoting a brand new fragrance called, appropriately enough, Unbreakable Joy. It's this power couple's second unisex fragrance, and it promises to leave them with a virtually unbreakable bank account just in time for the holidays!
Khloe Kardashian and Lamar Odom's new print ad for Unbreakable Joy made a debut this week, and it's actually great. The ad features a black-and-white photo of Khloe wrapped around Lamar, both of them smiling. A gorgeous, bright red bottle of the fragrance is at the bottom. At the top are words that Lamar wrote for his wife: "A thing of beauty is a joy forever. Khloe, you are my joy."
Isn't that just the sweetest thing for a husband to tell his spouse? Well, that and she smells good, because — you guessed it — she's wearing Unbreakable Joy! No doubt this new fragrance will sell very well, and the big marketing push to get Khloe's latest perfume to consumers comes just in time for the upcoming holiday season.
According to a press release, the fragrance does include several scents that could be holiday-related, including champagne, spices and cedar wood. Now everyone can have a holly, jolly, Kardashian-smelling Christmas!
What do you think? Would you consider buying Khloe Kardashian and Lamar Odom's newest fragrance for yourself or as a holiday gift, if the smell was right?