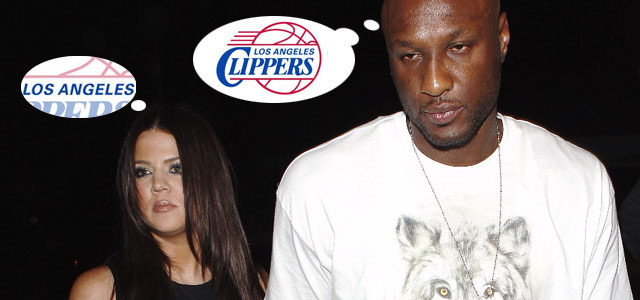 Khloe Kardashian wasn't happy when her hubby, NBA star Lamar Odom, was traded by the Los Angeles Lakers to the Dallas Mavericks last year. Can you blame her? Khloe grew up in L.A., surrounded by her huge family, including big sisters Kourtney and Kim Kardashian. Her life was as California as you can get, so a move to Dallas, Texas, was surely a culture shock for her. Still, she's a basketball wife now, and she goes where her man goes.
Now, she won't have to go anywhere at all: This week, it was announced that Lamar Odom was introduced as the newest member of the Los Angeles Clippers. It's where Odom first got his start, and now, he's back. Khloe Kardashian has got to be over the moon.
Now the question becomes: Will Khloe Kardashian and Lamar Odom revive their E! reality show, 'Khloe and Lamar'? Earlier this year, Khloe said they needed "a break" from the series. Recent reports suggest that the whole Kardashian reality TV franchise might not be a great thing for Lamar's career. Hollywood Life quotes a source as saying that the L.A. Clippers "want nothing to do with the circus that comes along with everything Kardashian."
For her husband's sake, it might be best for Khloe Kardashian to put any hopes for more reality television appearances on hold.