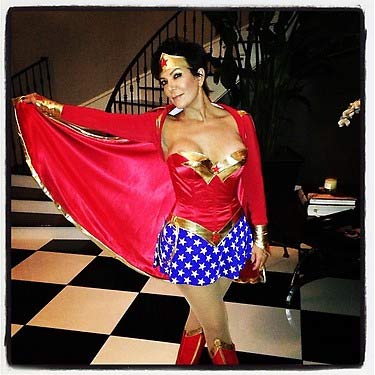 Kris Jenner decided she would go as Wonder Woman for Halloween, but her costume left very little to the imagination. In fact, one could say she was literally busting out of it! Kris had a big wardrobe malfunction, with part of one breast literally popping out of the Wonder Woman bustier top she was wearing. Hey, it happens, right?
But when it happens, who has the audacity to actually tweet a photo of it to millions? Kris Jenner, that's who! Yes, the Kardashian momager apparently didn't look closely enough at the photo before she decided to share it with her more than 2.5 million Twitter followers. Surprise, and Happy Halloween, everyone!
Luckily for Kris Jenner, not everyone was horrified at the flash of the 56-year-old mother of six's breast. Kris' own daughter, Khloe Kardashian, had a little fun with mom, retweeting the photo and telling her Twitter followers, "Hi nips. That's my mom!" You can either laugh about it or cry, right?
For the record, Kris Jenner says she can't understand why everyone got so crazy about the incident, saying, "It's just an innocent nip slip, happens to the best of us." Not really, Kris. Spoken like the mother who encouraged her own daughter to film a sex tape years ago…